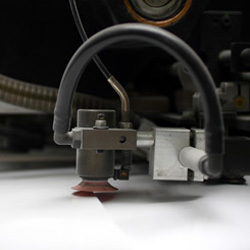 At seenkea, we do have normal conventional printing equipment.
Three presses,
two cutters,
three folders,
saddle stitcher,
perfect binder, die-cutter, drill, shrinkwrapping, spiral binding...
Blah, blah, blah
But we have more.
We have unconventional equipment. Machines you would never expect to find in a print shop. And thatís because we believe in making it happen for our customers. We develop equipment and methods to fit the needs of your project, even if it is not that big. We may create and we will automate.
And we will get to yes.
We think unconventionally, so while we can and do handle conventional print projects every day, we do much more.
We think outside the box, empowering you to do the same.